Double Your Field of View
Simply attach the included lens to expand the view to 110° for a full view of the nursery.
460 Ft of Coverage
Stay connected and see your baby in real time from anywhere in your home.
Nighttime Video
When it's time for bedtime, night vision technology continues to monitor so you can get your zzzzz's.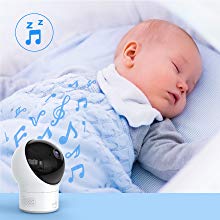 Plays Lullabies
Set a soothing playlist of melodies to comfort your baby.
Know When You're Needed
You're only notified when SpaceView detects the ambient noise to be louder than what you set and when your attention is needed.
Built-In Thermostat
See what the temperature of the nursery is in real-time throughout the day.
Real-Time Communication
The built-in microphone and speaker give you direct communication to your baby, even if you're elsewhere in the home.
All-Day Usage
The high-capacity 2900mAh rechargeable battery provides a full-day of monitoring.